Owner and driver, Dennis Wright, was first introduced to hydroplane racing as a young boy attending the unlimited hydroplane races in Evansville, IN. At 14 years old he began building and racing radio controlled hydroplanes, a hobby that consumed him for the next 25 years. His interests in hydroplane racing was catalyzed by his history teacher at North Posey Junior High School, Ed Cooper Jr., who served on Jim Sedam's U-22 crew at the time. In class, Cooper would share stories of his time with the Miss Madison and My Gypsy teams. A few years later Cooper and his father acquired the U-17 Tempus from Chuck Hickling. Wright started hanging around Cooper's shop, learning all he could about the V-12 Allison engines, boat building and the sport of hydroplane racing. He also continued to race R/C boats, winning consecutive high-point championships in the Sport 40 class.
In 2005 Dennis moved up to full-sized inboard hydroplane racing with the purchase of the S-2 Superior Miss from Merritt Smith of Cincinnatti, OH. Wright Brothers Motorsports was soon formed and a few, short weeks later Wright debuted as a driver at the American Power Boat Association Inboard Eastern Divisionals in Morgan City, LA.
Wright is employed as mold design engineer for Berry Plastics and Subsidiaries in Evansville, IN. Along with his wife, Cindy, and their three children, Michael, Baylee and Dennis III, he attends APBA inboard races across the midwest every summer. Regular events include "Quake on the Lake" in Waterford, MI, and the "Ohio Governor's Cup" in Celina, OH.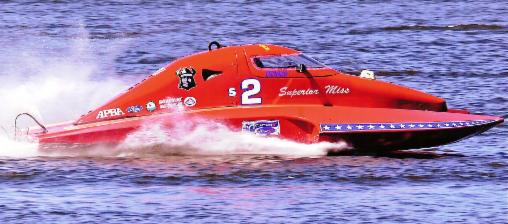 The S-2 is the creation of Steve Webster and Jame Auld. Originally named Red Hot, she was designed to compete in the 2.5L Modified class but was fitted with a stock Ford 2300 motor with the intention of moving up to the modified class at a later time. However, Webster Racing shifted their focus to a different boat for the National Modified class and sold the S-2 to Merritt Smith, who left the motor stock in order to compete in both stock and modified classes. Smith renamed her Superior Miss to reflect the name of his business, a name that has stuck even since being purchased by Wright Brothers Motorsports in 2005.